B R I A N L E E (L i Y i n g 李 影)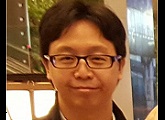 B R I A N L E E
L i Y i n g 李 影
Novelist/Author
Summary:
Specialized in writing Chinese Action-based stories of different genres such as Sci-Fi, Martial Art and Adventures. I hope to create an interesting direction for the young readers to develop their interest in learning Chinese. Started in 2008, I have been posting stories on a few Taiwan online portals (E.g. POPO) until today, receiving mostly positive feedbacks. I am now working on the latest installment of "The Adventures of Nicholas (大冒险家宇进系列)", and 3 other projects(Chinese Fantasy, Sci-Fi & Martial Art respectively).
Awards & Publication History:
2008 – Entered the top 20 in "Sci-fi competition" organized by Taiwan-based online portal "My freshnet"
2012 – Published first hardcopy novel "The Calamity" under Partridge Singapore.
2018 – Published 2 books of a new series of action-adventure novels, "Paradeisos" and "Rosa Caelestis",
and completed the manuscript of the 3rd installment, "The Golden Crow".
Please visit my website:
Brian Lee